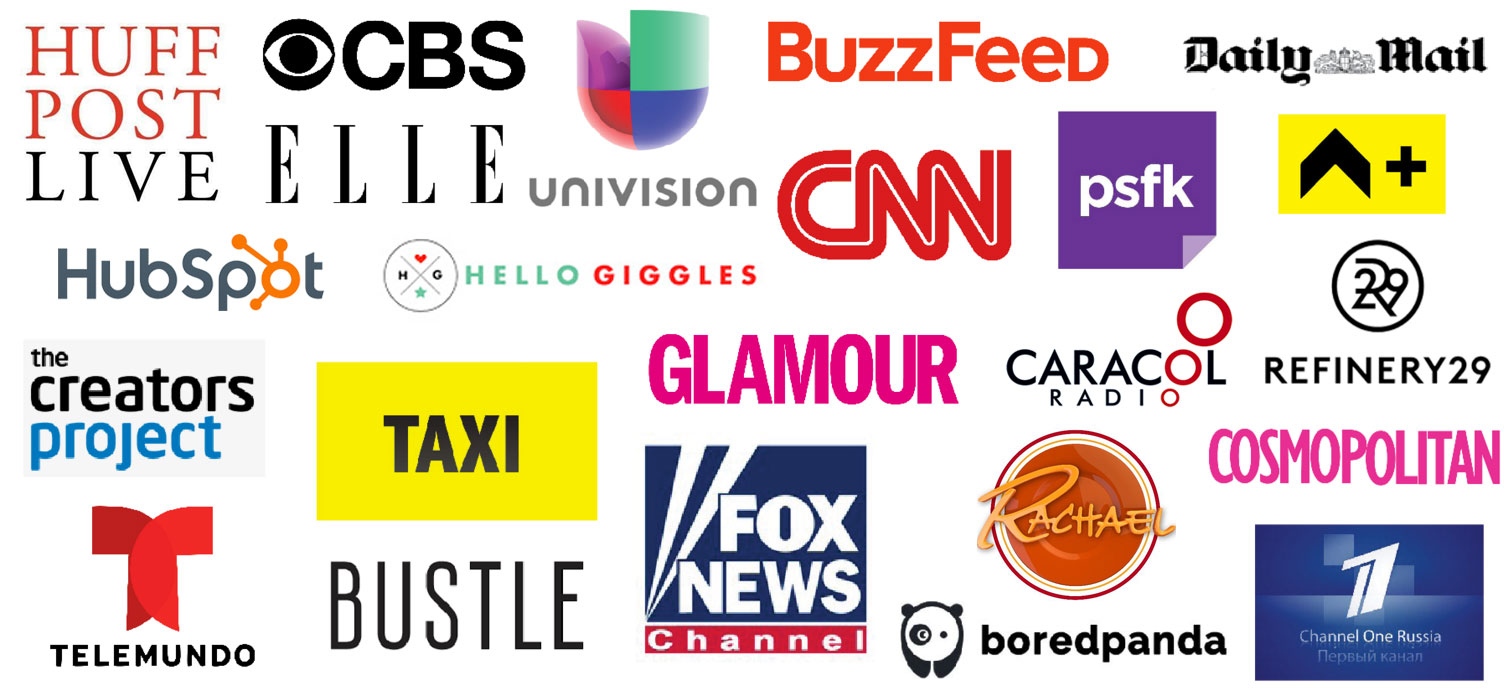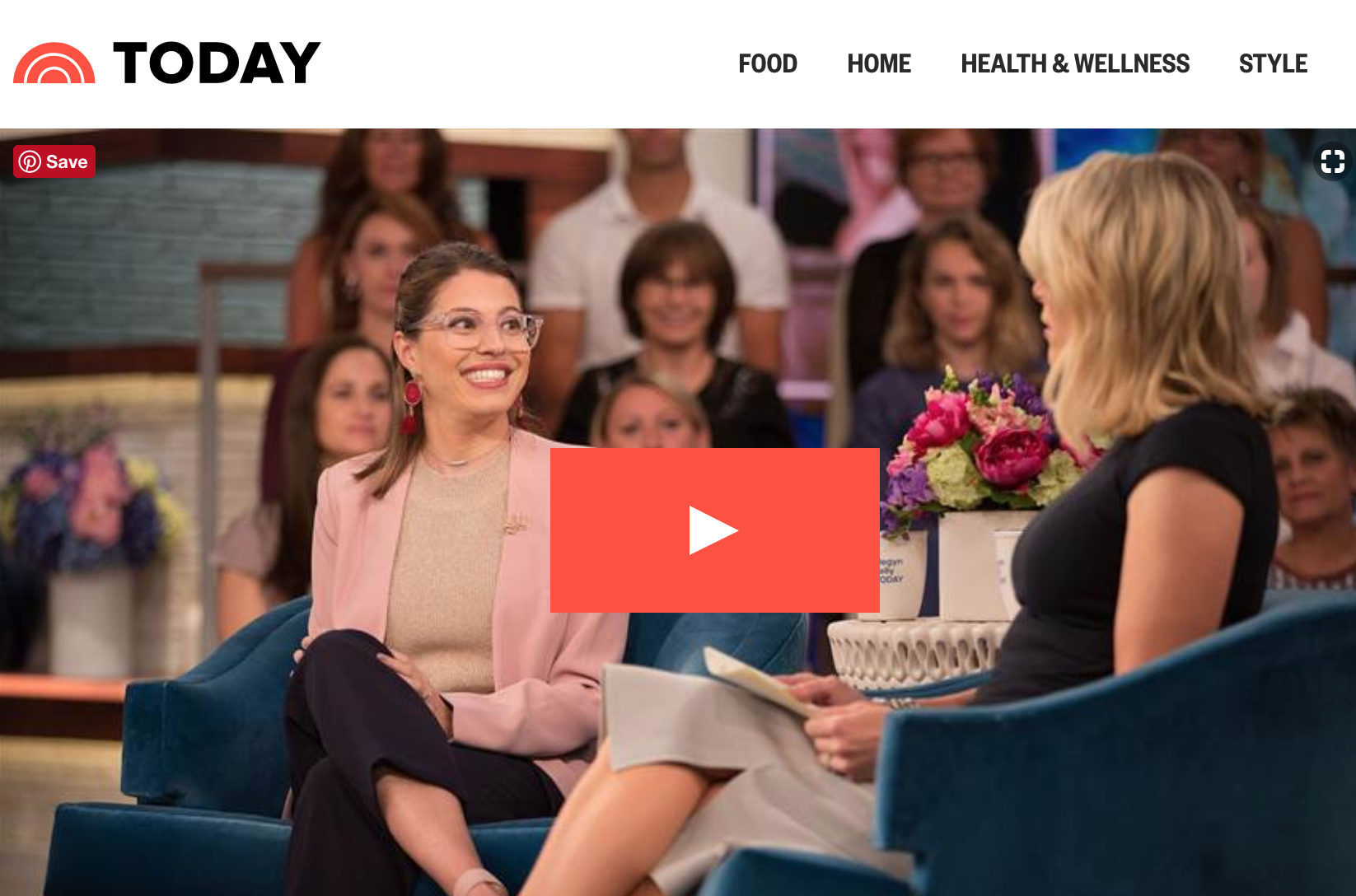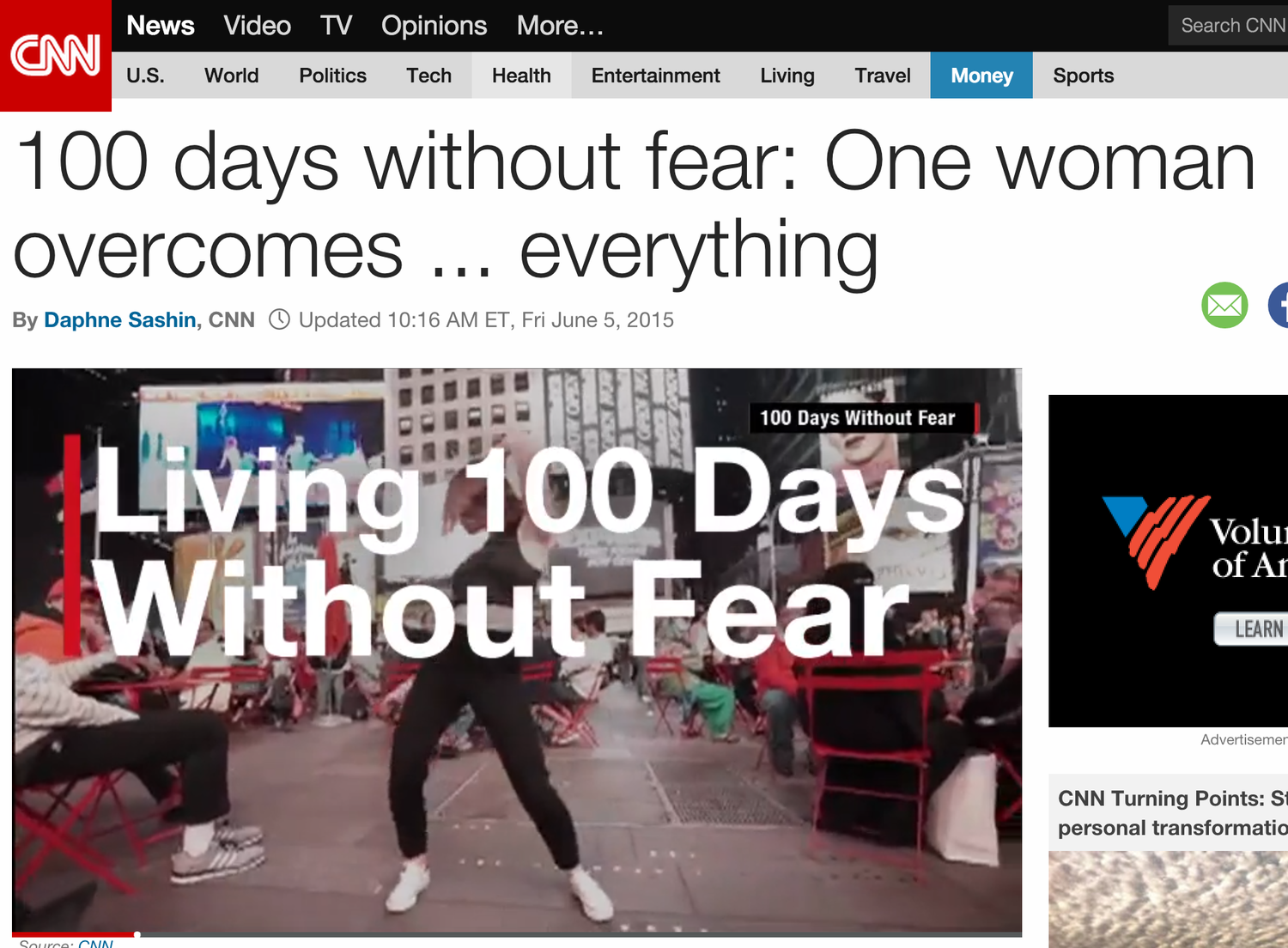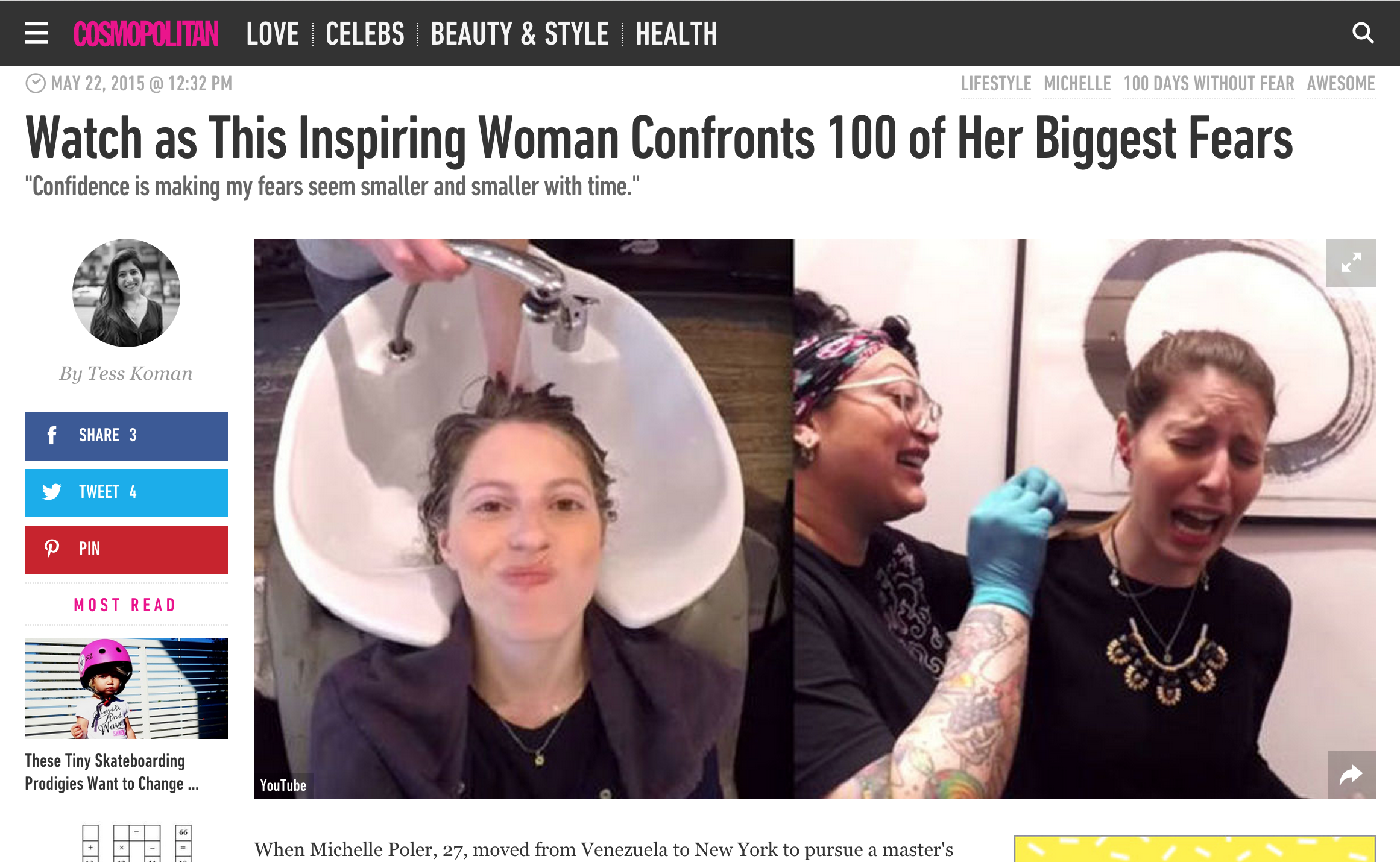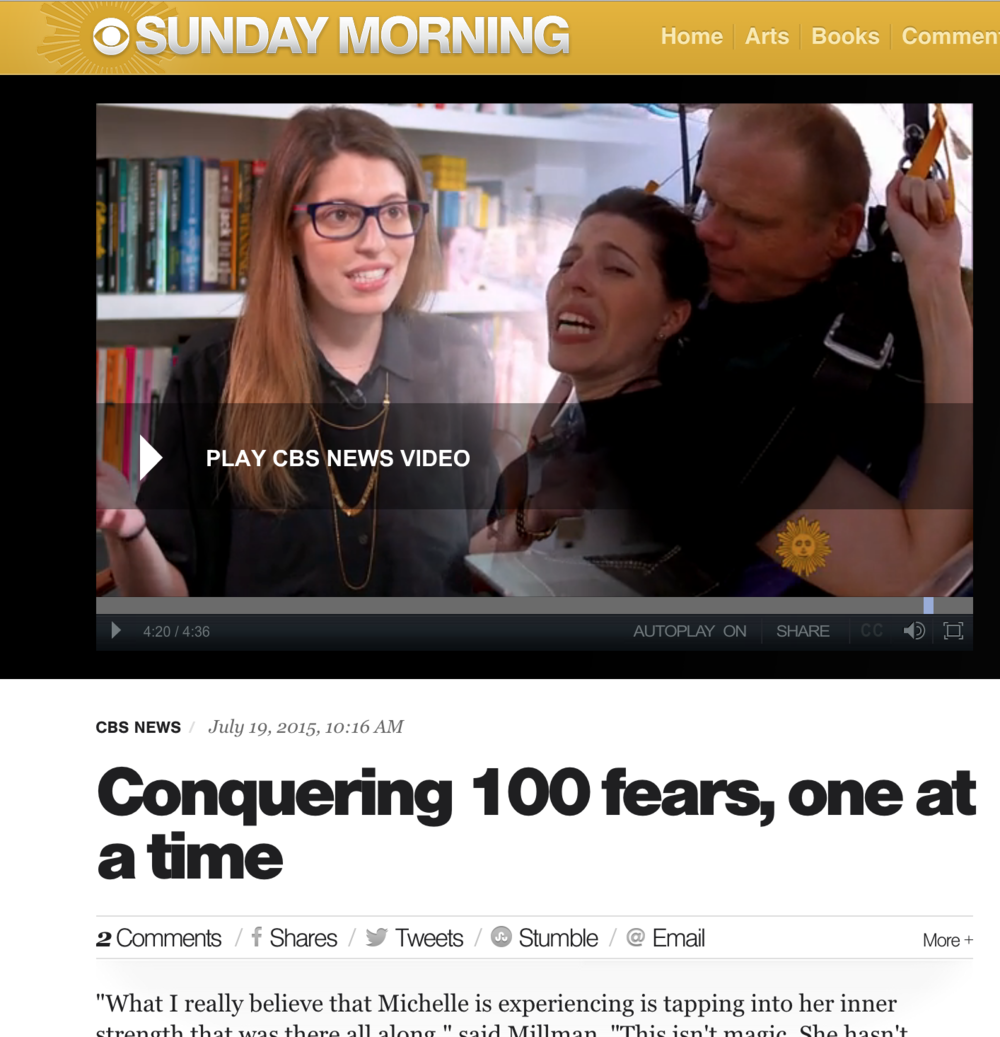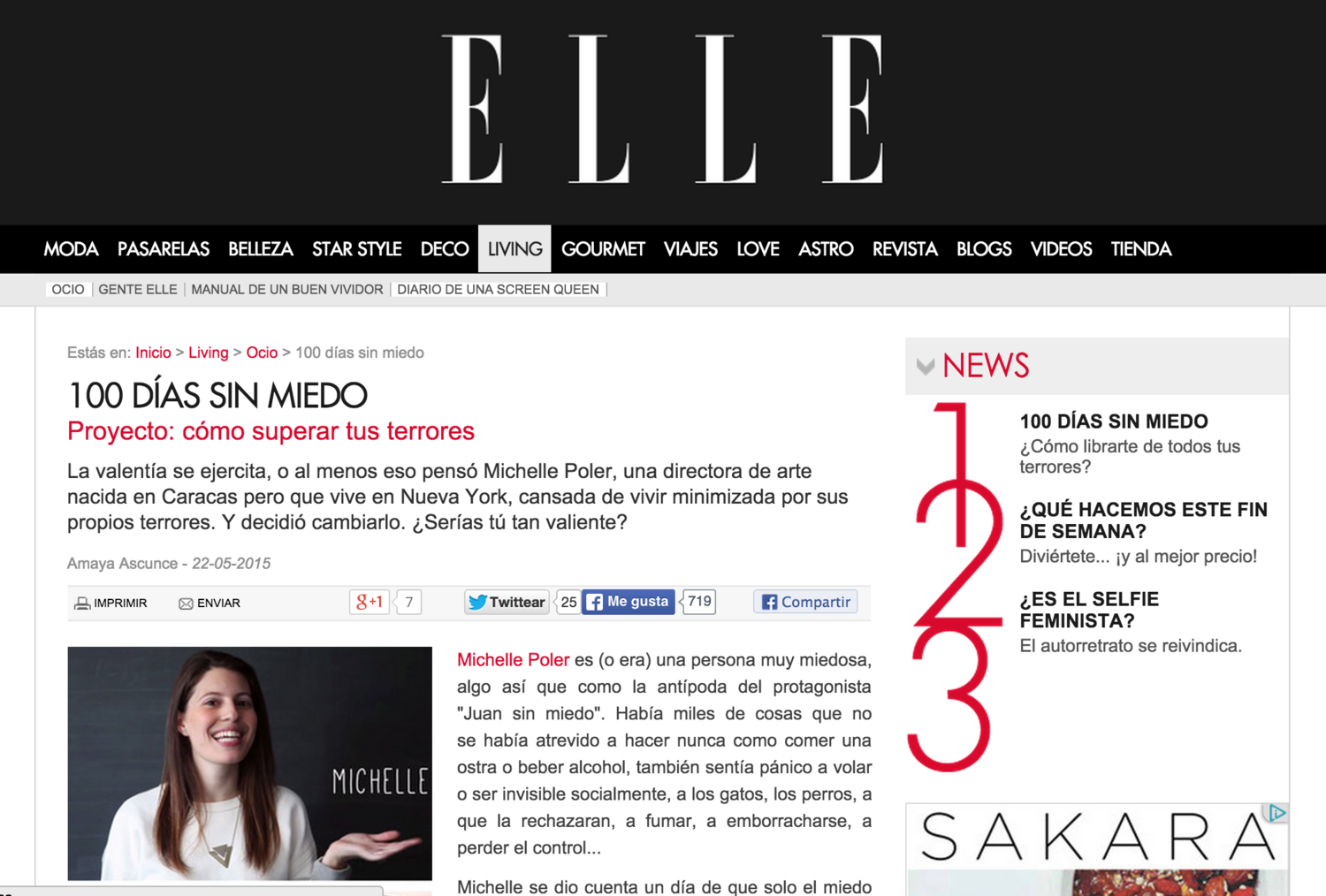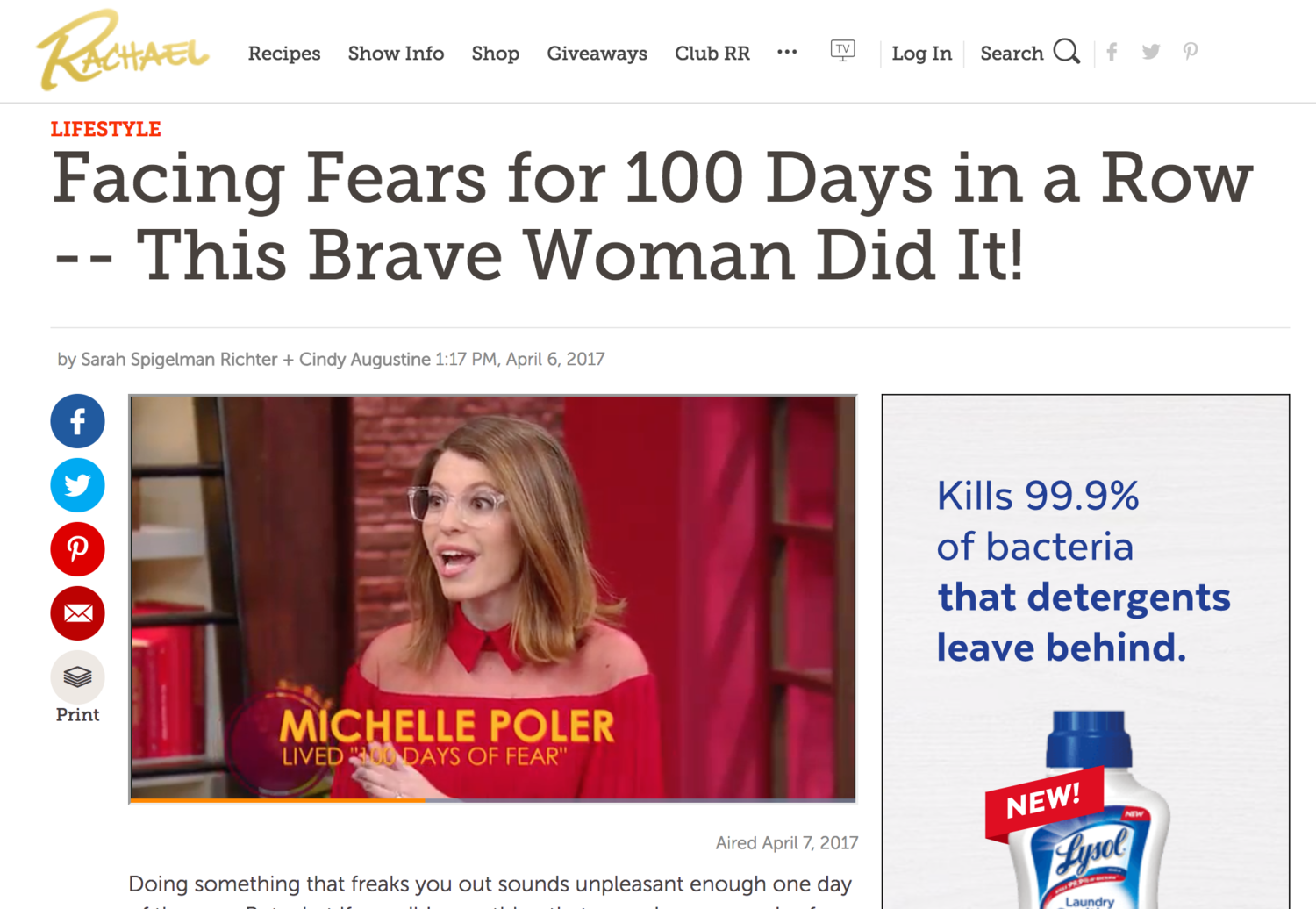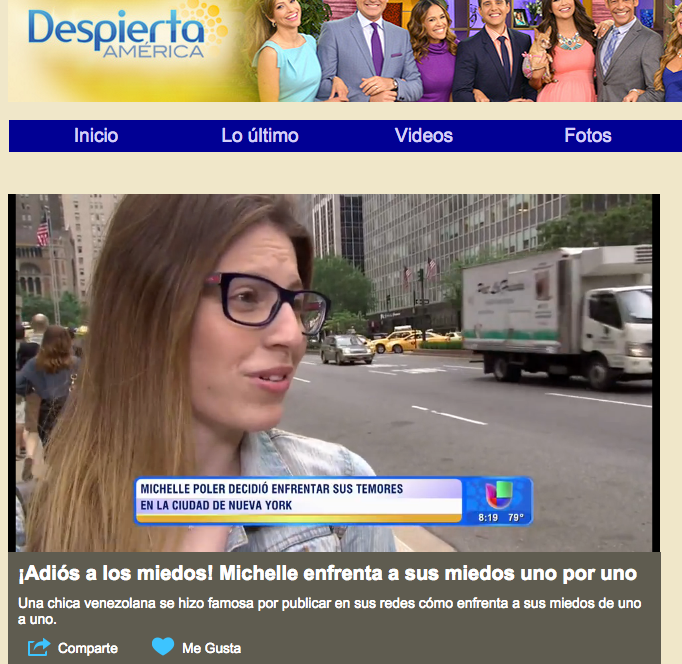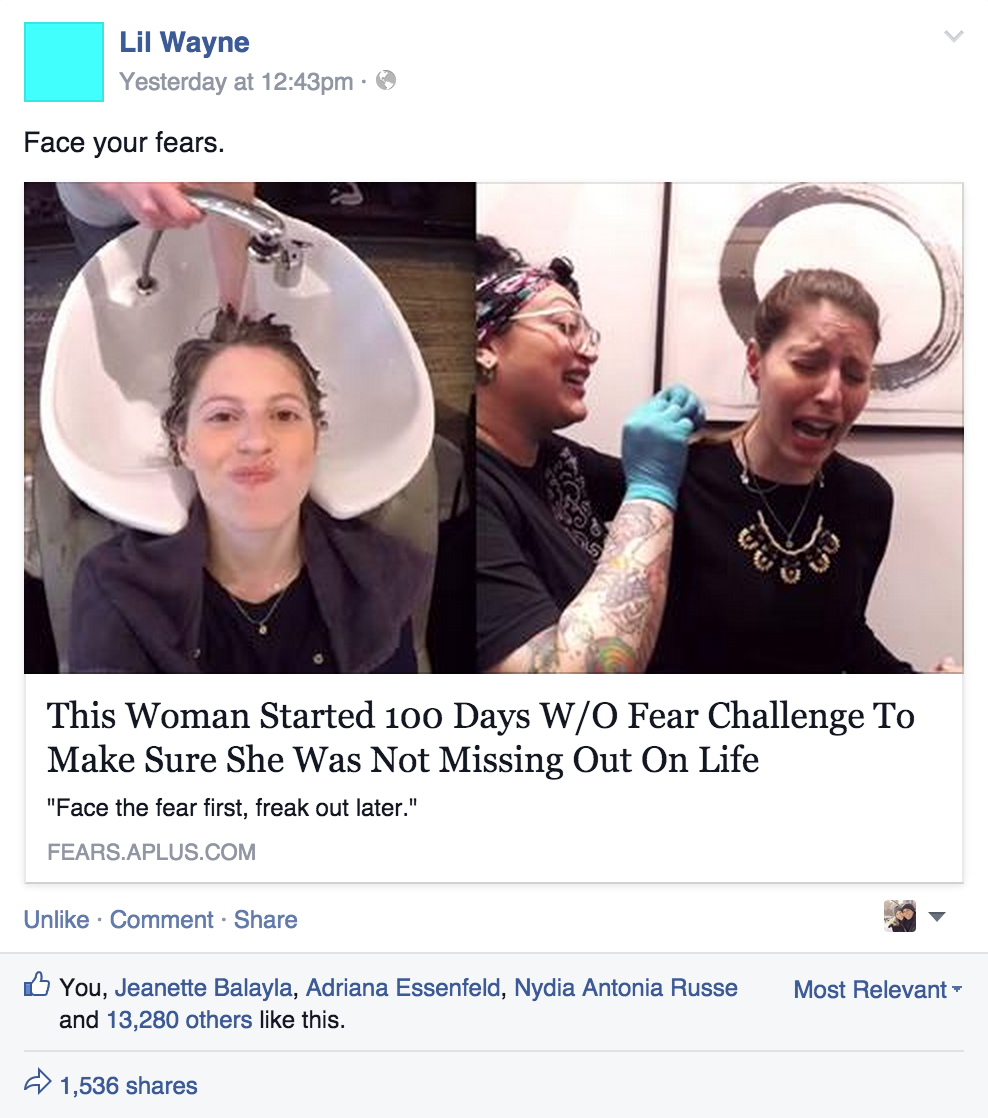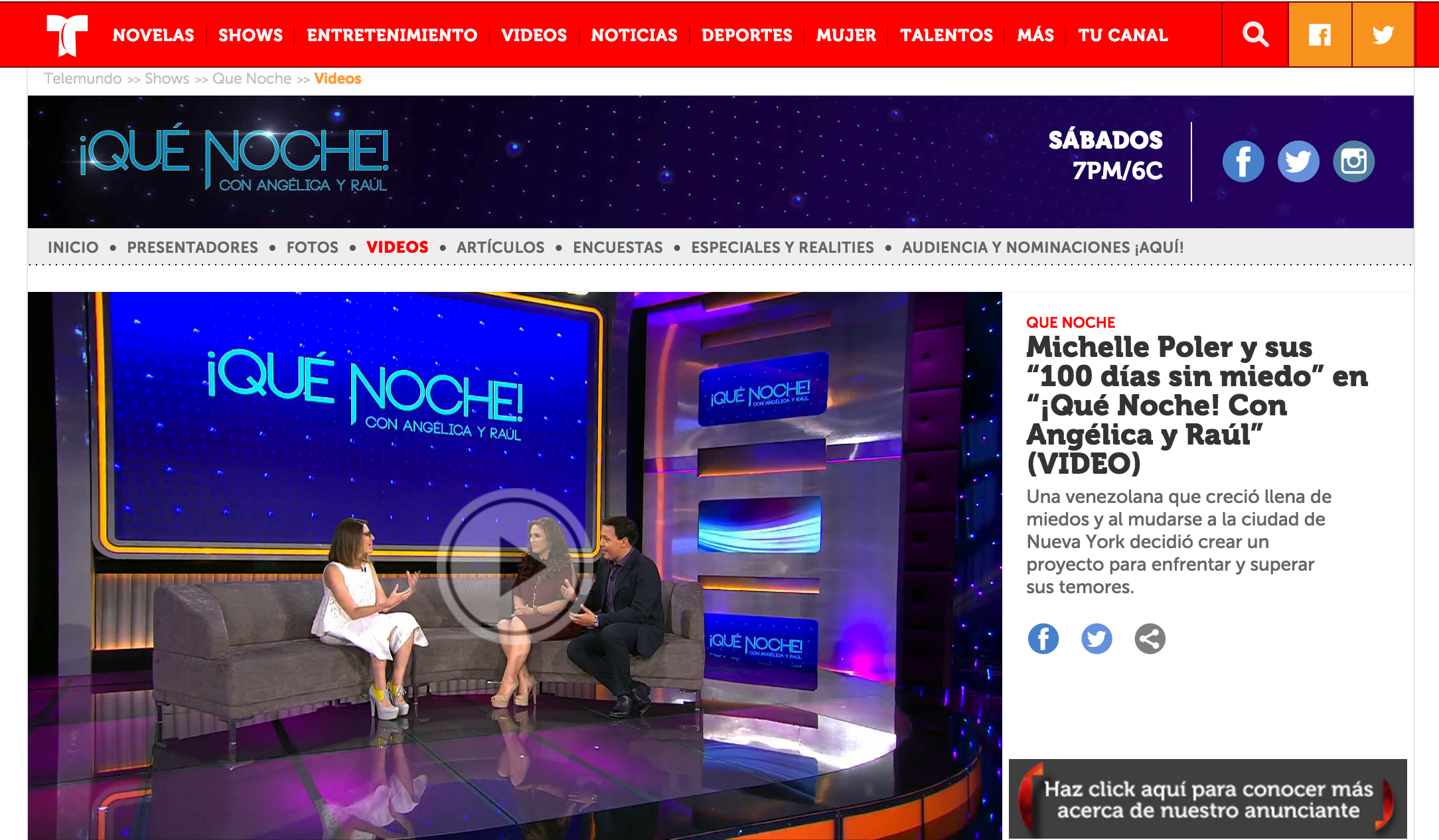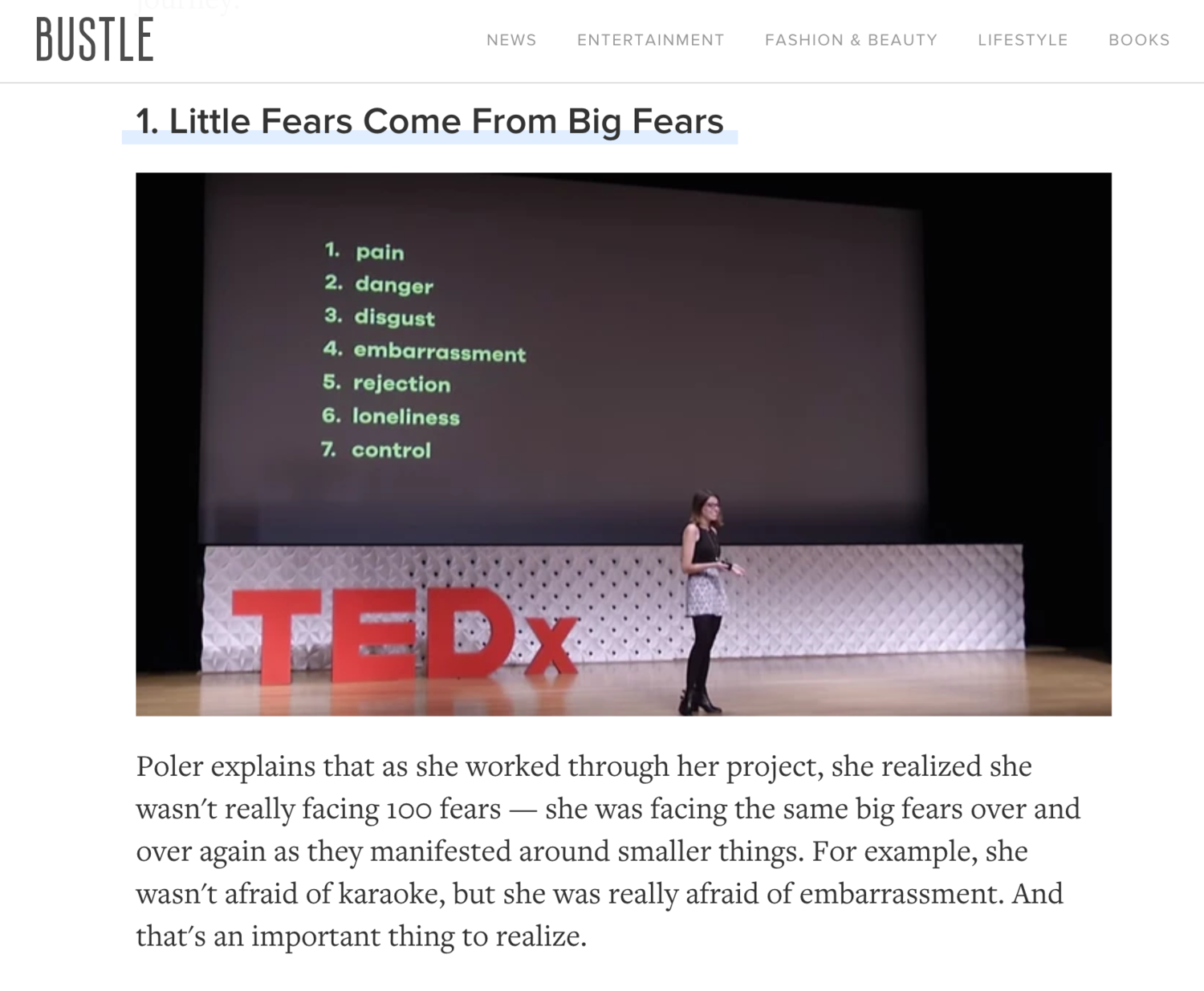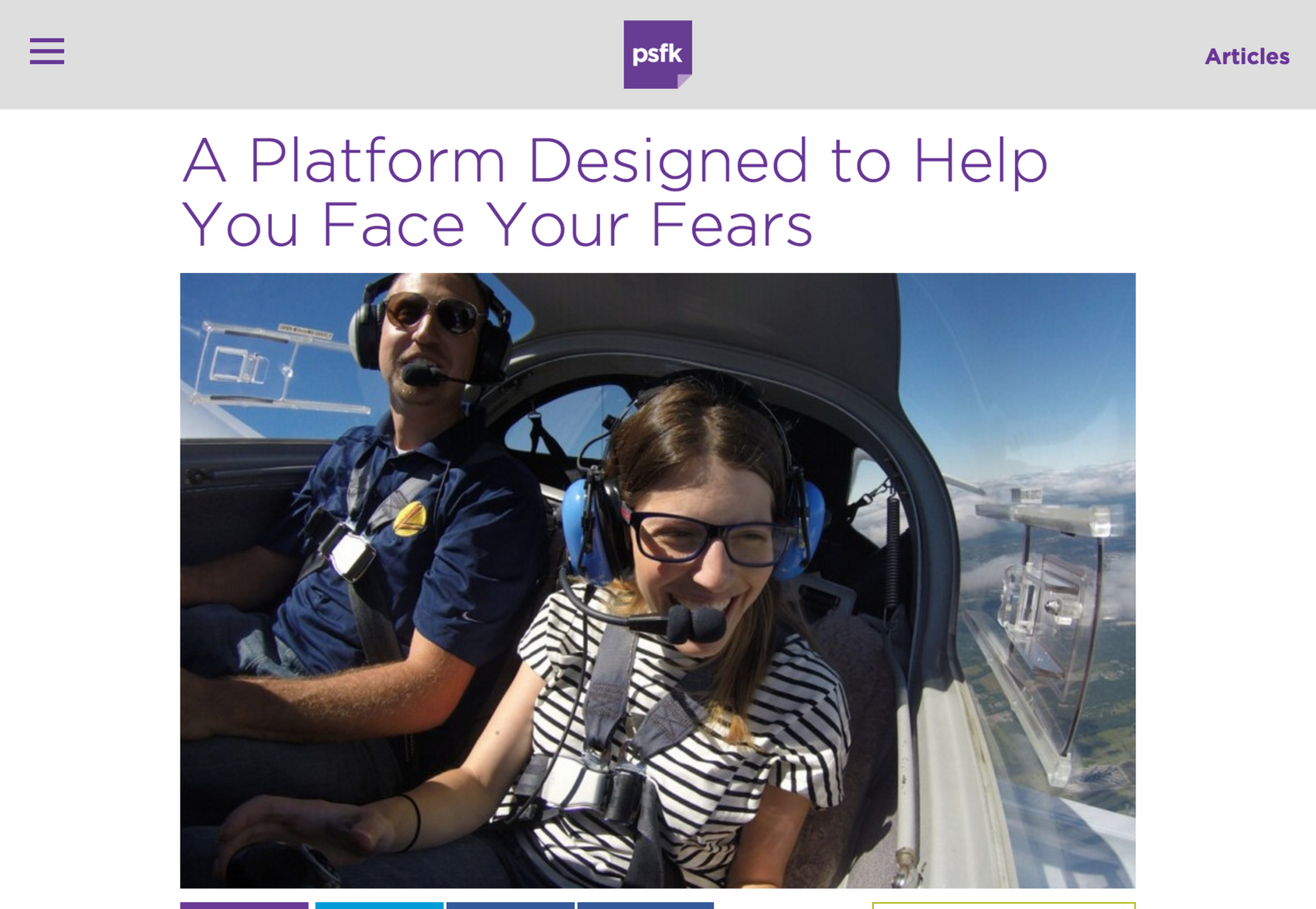 CNN
"From the time she was a little girl, Michelle Poler was afraid of the world. She avoided big, playful dogs, scared they might bite her. Terrified of pain, she dreaded dentist's and doctor's appointments. She missed dinner parties and networking events that required her to drive at night, nervous about getting in an accident..."
CBS Sunday Morning
"What I really believe that Michelle is experiencing is tapping into her inner strength that was there all along," said Millman. "This isn't magic. What she's actually doing is recognizing her own power and her own strength.."
Buzzfeed
"We all have fears...and no one knows that better than Michelle Poler, a student of New York's School of Visual Arts who's aiming to do one thing that scares her every day for 100 days.."
More?
Variety "Fox to Develop Michelle Poler's '100 Days Without Fear' as Series"
Vice "Artist Stripped Nude for '100 Days Without Fear' Project"

PSFK "A Platform Designed to Help You Face Your Fears"

FOX News "Woman sets out to live 100 days without fear, inspires people along the way"

Glamour "One Woman Faces Her Fear of Aging Head-On | 100 Days Without Fear"

Refinery29 "13 Fears New Yorkers Deal With — & How To Beat Them"
Brit+Co "This Woman Lived 100 Days Without Fear and Is Inspiring Us to Do the Same"

The Rachael Ray Show "Facing Fears for 100 Days in a Row -- This Brave Woman Did It!"

COSMOPOLITAN "Watch as This Inspiring Woman Confronts 100 of Her Biggest Fears"

BUSTLE 1 "100 Days Without Fear Challenge From Michelle Poler Is Awesome and Inspiring"

BUSTLE 2 "5 Lessons We Can Learn From Michelle Poler's Completed "100 Days Without Fear" Challenge"

DAILYMAIL "Woman afraid of bikini waxes, oysters and piercings sets out to conquer all of her fears"

Telemundo "Michelle Poler y sus "100 días sin miedo" en "¡Qué Noche! Con Angélica y Raúl"

DESIGNTAXI "Student Embarks On Personal Project To Face 100 Personal Fears In 100 Days"

HELLO GIGGLES "One woman is getting her perfect life by living 100 days without fear"

A PLUS "This Woman Started 100 Days W/O Fear Challenge To Make Sure She Was Not Missing Out On Life"

BOREDPANDA "Women started 100 Days Without Fear challenge to live life to the fullest"

Univisión "Michelle Poler enfrenta sus miedos en 100 dias"

ELLE SPAIN "100 Dias Sin Miedo"

Channel 1 Russia "How to get rid of phobias"